It's a linkup. It's a giveaway. It's a story about a kid. It's worth reading.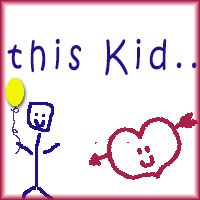 Here's the cool thing about this link up.
A) it has a big giveaway attached.
B) it gives each of us a chance to brag on our offspring.
3) It's just cool because it is.
I will leave this link up open for the next two weeks, so that everyone has plenty of time to brag on their kids.
Here are the rules:
Follow me through bloglovin
Link up with a post or more than one post, over the next two weeks, about your child or your children.
Or even the little one in the oven.
Your choice.
Then grab my button and put it somewhere on your page or your post.
And that's it!
At the end of the two weeks, each person that linked up
at least once
, posted my button,
and
are still following through bloglovin, will be entered in a drawing to win a handmade rag quilt from
Rag Dolls Quilts
.
This giveaway is worth $90!! and worth waiting a couple weeks for...
The winner will be able to choose from a choice of color schemes and Rag Dolls Quilts will custom make the quilt for her.
him.
you.
whoever wins. you get the point.
I know this designer personally, and she is adding more beautiful quilts every day so keep checking her website.
You can't go wrong by joining this link up.
And every kid deserves a chance to shine a little.
So, go on, Momma...
Start bragging on those babies!
This kid.
He is the third child in the family.
But the oldest of the second set.
Must be confusing to be smack dab in the middle and at the top of the food chain, all at the same time.
But he seems up to the challenge.
He is my dreamer, thinker, planner...
And a natural speaker.
He watches out for his sister.
Watches over me.
And shows the utmost respect for his father.
He also listens to God.
And he hears from Him
.
Be still my mother's heart.
He makes me laugh.
He makes everyone laugh.
Laughter follows him.
His name should mean laughter.
But his name means freedom, and that works as well.
Because while he follows the rules, respects, the rules, and seeks to understand them, he only does so because he understands that sometimes it is in the rules that we find freedom.
And when he doesn't see them as a way to freedom, he becomes the most frustrated child I have ever seen.
It is then that the thinker in him breaks forth and I see him devising a way to get around the rule.
A way to bend it and cross over.
A way to keep it because he is the oldest and that is what the oldest children do,
but in keeping it, a way to reshape it into something he can use in his quest for freedom.
He reminds me to never stop learning.
He reminds me to love at all costs.
He reminds me to pursue God.
And then to listen.
He has my heart, this one.
a Rafflecopter giveaway